Unprecedented field for US Open 9-Ball
April of this year just might be the month we look back on and say, "That's it; that's the month that pool turned the corner."
The evidence is strong. Did you catch that Matchroom Sport, a promoter that just doesn't book losers, is blossoming out of its tried and true menu of few-participant exclusive events like the Mosconi Cup and World Pool Masters to bring us something BIG? The US Open reincarnation, with a $300,000 purse, will be April 21-26 in Las Vegas USA. The field is set, and as you'll see below, expect the strongest assembly of pool players we've seen.
The picture is painted more clearly by the storms brewing on either side of the US Open 9-Ball. Just days before, CueSports International (CSI) teams with the World Pool-Billiard Association (WPA) to bring the $50,000 added WPA Players Championship at Griffs in Las Vegas. Did you catch that? WPA is partnering with CSI. That's a big deal and it's good for pool. And did you catch WPA President Ian Anderson's comment that "our goal is for this event to be the first of more to follow"?
And a mere month after the US Open 9-Ball, CSI brings the US Open Bank Pool, Straight Pool, and One-Pocket all together to Griffs in Las Vegas with a projected $95,000 purse.
Finally, just two months later, league players from everywhere will share the elevators with the world's best pool players at the Rio in Las Vegas. Predator and CSI team to bring the WORLD 10-Ball Championship to be played along with the BCAPL and USAPL International events. That's the first 8-Ball, 9-Ball, or 10-Ball World Championship in the United States in more than two decades. And it will happen smack dab in the middle of 5,000 amateur pool players milling around. Did you catch that Predator is partnering with CSI? That's a good thing.
That World 10-Ball is a first of three years committed, and the good news is after this coming July (2019) it moves to March (2020) along with CSI league events. So we get a second world championship just 7 months after the first. And another thing, it seems like Matchroom's version of the US Open 9-Ball replaces the familiar Virginia event with a long history. But it really doesn't. Something that looks an awful lot like that Virginia event in the Fall is humming along as the International 9-Ball Open, and we—members of the pool world—are the winners.
Strongest Field Assembled?
Pool has only had a rating system for a few years, so we cant very well comment on tournament fields from long ago. More recently, though, we can compare tournaments by counting how many of the world's top 100 pool players are competing in the same place at the same time. The highest we've seen in the past is 56, and we've seen that number twice. The first was at the October 2017 US Open 9-Ball Championship. The other time we saw 56 of the top 100 was at World 9-Ball in Qatar in December 2018. Other notable events in the last few years are World 9-Ball Qatar December 2017 with 54 and US International 9-Ball Open with 45 in October 2017.
It is in this context that we report an amazing 69 of the world's top 100 pool players are entered into the US Open 9-Ball event for next month. Those entered are in yellow here.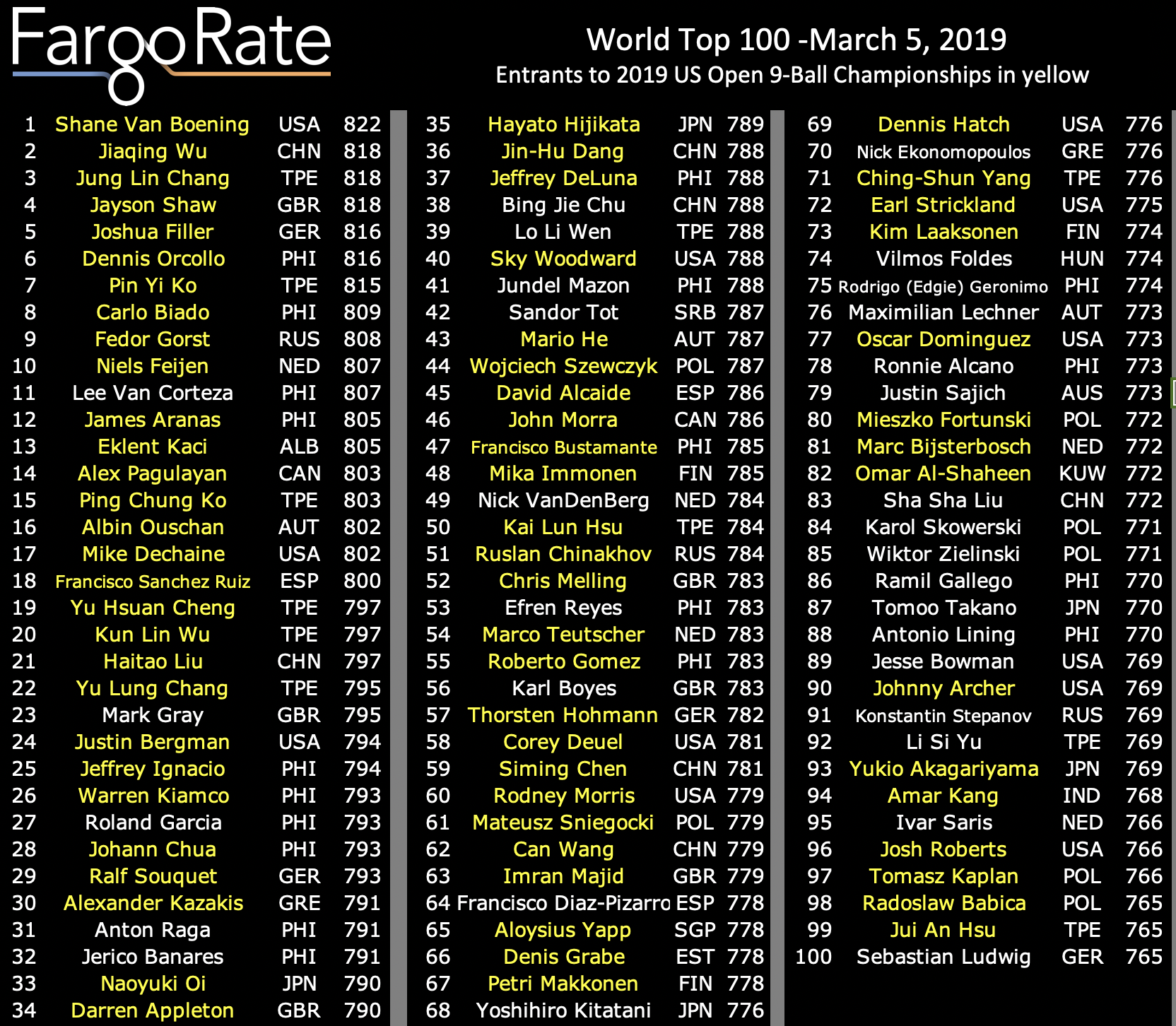 This is hands down the strongest field we've seen.